Events : Custom Made Stories
A CATERER FOR YOUR EVENT IN THE SOUTH OF FRANCE
Lunches, Finger-Food Cocktails, Diners, Business Meals, Gala Diners… Helen Caterer organizes your event in the South of France
Elaborated by its Sales Team all over the South of France, Helen designs custom-made events and uses all its know-how to prepare and serve what will become a highlight.
Whatever may be the place, from the most conventional to the most unexpected; Helen will be the generator of solutions, listening to your expectations and with its creativity fulfilling your dreams, from the most sensible to the maddest.
Helen is referenced in all the major Congress centers of the South :
Nice Acropolis, Palais des Congrès and Exposition Parc of Avignon, Parc Chanot and Palais from Pharo to Marseille, Congres Center of Aix en Provence, Grimaldi forum to Monaco, Cité des Congrès in Lyon, Enjoy in Montpellier, Congres Center of la Grande Motte, Congres Center of Arles, Halle de Martigues, Congres Center of Antibes-Juan les pins, Allianz Riviera stadium of Nice, Orange Velodrome stadium of Marseille …
Helen will be able to answer to all your specific requests and issues, including a special range of food trays for deliveries on stands.
Helen received the award of "Event-Driven Reception" for the Gala Dinner of the 30 years of Tax Free, cooperated with Régis Marcon (3 star cook) and the agency Creative Spirit
"A prestigious event on which we expected a special involvement from all our teams and which showed once more that a Caterer can also be an important element in the success of an exceptional event", explains Eric-Helen Luis, proud of this award.
Helen also received a trophy, which recognizes the sector of event management on the Heaven Meeting Show, which takes place in Cannes every year.
Helen is specialized in the catering of sporting events: Olympic Games of Albertville, Grand Prix of Monaco, Beach Volley World Cup, Tennis Open of Marseille, Nizza and Aix-en-Provence, Golf Open of Mougins and Lyon, Rugby World Cup in Marseille as well as test matches, Stade Véldrome UEFA Cup in Nizza, Formula 1's French Grand Prix at the Circuit PAUL RICARD … and lots more.
Through its team which is used to organize these kind of events, its wide experience and the setup of a special software which helps managing the organization of various events in same time (VIP lounges, à-la-carte restaurants, bars…), Helen became the essential partner of the most important sporting events in the South of France and elsewhere.
Pull up a chair with a great Caterer is a pledge for the success and the guarantee of a personalized high-quality event.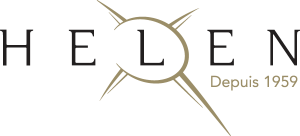 Helen, a caterer anchored in the past whilst turned to the future!
Are you going to get married ?
Just think of the basics, we'll take care of the rest.